[av_heading heading='Magna IV Printing Services Company' tag='h1′ link=" link_target=" style='blockquote modern-quote' size=" subheading_active=" subheading_size='15' margin=" padding='24' color=" custom_font=" custom_class=" id=" admin_preview_bg=" av-desktop-hide=" av-medium-hide=" av-small-hide=" av-mini-hide=" av-medium-font-size-title=" av-small-font-size-title=" av-mini-font-size-title=" av-medium-font-size=" av-small-font-size=" av-mini-font-size=" av_uid='av-13u78′][/av_heading]
[av_two_third first min_height=" vertical_alignment=" space=" custom_margin=" margin='0px' padding='0px' border=" border_color=" radius='0px' background_color=" src=" background_position='top left' background_repeat='no-repeat' av_uid='av-8bu00′]
[av_image src='http://test.magna4.com/wp-content/uploads/2015/09/AboutHero.jpg' attachment='980′ attachment_size='full' align='center' styling=" hover=" link=" target=" caption=" font_size=" appearance=" overlay_opacity='0.4′ overlay_color='#000000′ overlay_text_color='#ffffff' animation='left-to-right' admin_preview_bg=" av_uid='av-792v0′][/av_image]
[av_textblock size='16' av-medium-font-size=" av-small-font-size=" av-mini-font-size=" font_color=" color=" id=" custom_class=" av_uid='av-6pt40′ admin_preview_bg="]
About Magna IV
Ask anyone who has worked with Magna IV, and they'll tell you that its staff is its strongest asset. As a family-owned and run marketing and fulfillment business for over four decades, Magna IV prides itself on its employees' expertise, in-depth knowledge of the print, marketing and fulfillment industries and their ability to quickly adapt to the latest technological advances.
Magna IV has a winning reputation among nonprofits, restaurants, retailers, higher education institutions, manufacturers and more. We help companies build their brands with our printing solutions and fulfillment services.  We strive to exceed customers' expectations everyday by providing expertise and high-quality print  products their businesses need to succeed. Magna IV handles every detail from design to production so customers can focus on what they do best.
Our work is done under one roof. Whether it's setting up an online marketing portal to manage customers' collateral, handling eComm order fulfillment,  or creating a multi-channel marketing campaign to drive engagement among key audiences, Magna IV has the expertise to meet any client's needs. When an outside partner is required, we utilize trusted strategic alliances to get the job done. Magna IV's facility is equipped to handle any type of printing service—digital, offset, wide format, variable data—as well as fulfillment and mailing services. Our capabilities are as varied as our clientele. View our success stories using innovative printing technologies.
Meet Magna IV's Founders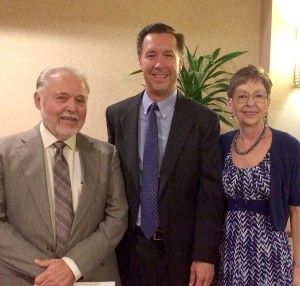 After jumping head first into printing in high school, Gary Middleton played numerous roles in the industry from plate making to color contact separating. With printing undergoing rapid changes, Gary and his wife, Pat, decided to take a risk and open their own printing business. Magna IV officially opened in 1975. With Pat filling in as the company's receptionist, bookkeeper, and even part-time delivery driver, she and Gary were able to steadily expand the business. They acquired several prominent printers in the region, including Diversatype in 1991, International Graphics in 1997, Parkin Printing in 1998 and Peerless Engraving in 2007.
The Middletons retired in 2014 and handed the reins over to their son Kent Middleton, and long-time employee Kristi Dannelley.  In 2020, Kristi Dannelley acquired full ownership from partner, Kent Middleton.
[/av_textblock]
[av_hr class='invisible' height='50' shadow='no-shadow' position='center' custom_border='av-border-thin' custom_width='50px' custom_border_color=" custom_margin_top='30px' custom_margin_bottom='30px' icon_select='yes' custom_icon_color=" icon='ue808′ font='entypo-fontello' av_uid='av-667ms']
[/av_two_third]
[av_one_third min_height=" vertical_alignment=" space=" custom_margin=" margin='0px' padding='0px' border=" border_color=" radius='0px' background_color=" src=" background_position='top left' background_repeat='no-repeat' av_uid='av-5itck']
[av_image src='http://test.magna4.com/wp-content/uploads/2015/09/MagnaIV_Logo_hr.jpg' attachment='559′ attachment_size='full' align='center' styling=" hover=" link=" target=" caption=" font_size=" appearance=" overlay_opacity='0.4′ overlay_color='#000000′ overlay_text_color='#ffffff' animation='top-to-bottom' av_uid='av-5atp0′][/av_image]
[av_textblock size=" font_color=" color=" av_uid='av-4ntzs']
Magna IV
2401 Commercial Lane
Little Rock, AR 72206
501-376-2397
800-946-2462 toll free
501-376-2041 facsimile
[/av_textblock]
[av_hr class='invisible' height='20' shadow='no-shadow' position='center' custom_border='av-border-thin' custom_width='50px' custom_border_color=" custom_margin_top='30px' custom_margin_bottom='30px' icon_select='yes' custom_icon_color=" icon='ue808′ font='entypo-fontello' av_uid='av-3zsy4′]
[av_button_big label='Request A Consultation' description_pos='below' link='page,200′ link_target=" icon_select='yes-left-icon' icon='ue805′ font='entypo-fontello' custom_font='#ffffff' color='green' custom_bg='#444444′ color_hover='aqua' custom_bg_hover='#444444′ av_uid='av-3jfio'][/av_button_big]
[av_hr class='default' height='50' shadow='no-shadow' position='center' custom_border='av-border-thin' custom_width='50px' custom_border_color=" custom_margin_top='30px' custom_margin_bottom='30px' icon_select='yes' custom_icon_color=" icon='ue808′ av-desktop-hide=" av-medium-hide=" av-small-hide=" av-mini-hide=" av_uid='av-2q6ic']
[av_button_big label='Capabilities Brochure' description_pos='below' icon_select='yes-left-icon' icon='ue84e' font='entypo-fontello' link='manually,http://online.fliphtml5.com/cpme/odly/' link_target=" title_attr=" color='green' custom_bg='#444444′ color_hover='aqua' custom_bg_hover='#444444′ custom_font='#ffffff' id=" custom_class=" av_uid='av-2a7ic' admin_preview_bg="][/av_button_big]
[av_hr class='default' height='50' shadow='no-shadow' position='center' custom_border='av-border-thin' custom_width='50px' custom_border_color=" custom_margin_top='30px' custom_margin_bottom='30px' icon_select='yes' custom_icon_color=" icon='ue808′ av-desktop-hide=" av-medium-hide=" av-small-hide=" av-mini-hide=" av_uid='av-2q6ic']
[av_button_big label='Capability Statement' description_pos='below' icon_select='yes-left-icon' icon='ue84d' font='entypo-fontello' link='manually,https://online.fliphtml5.com/gakdb/pmng/' link_target=" title_attr=" color='green' custom_bg='#444444′ color_hover='aqua' custom_bg_hover='#444444′ color_font='theme-color' custom_font='#ffffff' id=" custom_class=" template_class=" av_uid='av-2a7ic' sc_version='1.0′ admin_preview_bg="][/av_button_big]
[/av_one_third][av_hr class='default' height='50' shadow='no-shadow' position='center' custom_border='av-border-thin' custom_width='50px' custom_border_color=" custom_margin_top='30px' custom_margin_bottom='30px' icon_select='yes' custom_icon_color=" icon='ue808′ av-desktop-hide=" av-medium-hide=" av-small-hide=" av-mini-hide=" av_uid='av-3zx8′]